A Closer Look At 214 West Tremont
This 4-story office building located in located in beautiful Charlotte, North Carolina – just a short distance from our main headquarters. The office building is just shy of 30,000 sqft with both off-street and curbside parking. Built in 2007, the brick-front gives the true feel and character of it's neighbors and other buildings around it yet the top floor gives a unique vibe that stands out from the rest.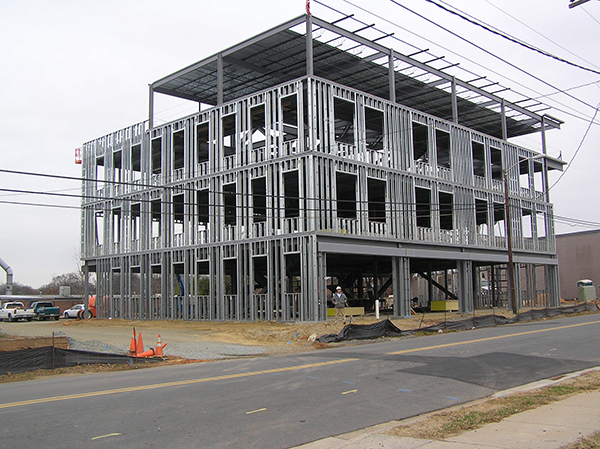 Situated just west of South Blvd in Charlotte, there is much to see and do – and places to eat – near this great structure. Sullivan's Steakhouse, Tupelo Honey Cafe, Luna's Living Kitchen, Tyber Creek Pub – just to name a few of the great nearby restaurants. Feeling adventurous? Check out Inner Peaks Climbing on the other side of W Tremont Ave.
Tenants of this building have including yoga studios, appraisers, lighting companies, CharlotteParent.com, art galleries and more.
The structure of 214 West Tremont utilized a standard steel frame with braced frames to resist wind and seismic effects. The fourth story has a wood framed mezzanine and exposed horizontal steel bracing for diaphragm continuity. The Architect used on this project was MistriHardaway, based out of North Carolina.
JDH Structural Engineers, PLLC was the Structural Engineer on the project for 214 W Tremont Ave in Charlotte, NC.